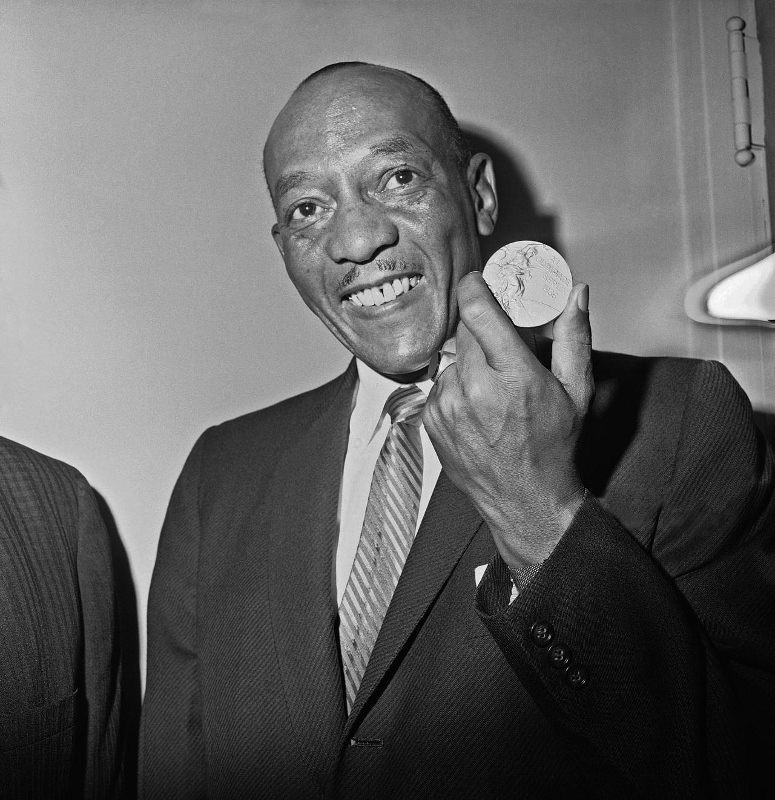 Bro. Jesse Owens was born James Cleveland Owens in Oakville, Alabama on September 12, 1913. His father, Henry was a sharecropper and he was the youngest of 10 children. At the age of 9 the family moved to Cleveland, Ohio as a part of the Great Migration. While he was at the time commonly known as "J.C.," because of the thick southern accent, when he was asked his name it sounded like "Jesse" and the name stuck.
While in junior high school, Owens discovered a passion for running and joined the track team at Fairmount Junior High School. It was also around this time he met Minnie Ruth Solomon, who later become his wife. As a student at East Technical High School he equaled the world record in the 100 yard dash at the 1933 National High School Championship in Chicago.
From there he attended The Ohio State University on a track and field scholarship and it was there in 1934 where he became a member of Alpha Phi Alpha, being initiated into Kappa Chapter. Several of his line brothers were also on the track team at Ohio State.
In college he established himself as an outstanding athlete, setting and breaking many collegiate records while often competing (and sometimes defeating) other Alpha Brothers. In 1935 at the Big Ten meet in Ann Arbor, Michigan, he set 3 world records and tied for a fourth.
In 1936, Bro. Owens competed in the Olympic Games held in Berlin, Germany. He won 4 gold medals and his victory help to dissuade the notion of Aryan supremacy. It one of the only times in Olympic History where the leader of a country, Adolf Hitler, refused to publicly acknowledge the gold medal winners. His achievements in the 1936 Olympics were documented in the film "Olympia" by Leni Riefenstahl, released in 1938.
After the Olympics, he remained active in the sports world and relocated to Chicago where he opened a dry cleaning business. He and his wife Minne, would have three daughters. While living in Chicago, he also became a member of Xi Lambda Chapter along with Olympic teammate Ralph H. Metcalfe.
He would also become a goodwill ambassador and traveled the world on behalf of the United States.
Bro. Owens entered Omega Chapter on March 31, 1980.
Written by Bro. Charles Smoot
Xi Lambda Chapter Assistant Historian
photo via - http://www.digitalspy.com/movies/news/a574194/star-wars-7s-john-boyega-replaced-in-jesse-owens-biopic/